Monitoring Birds
Monitoring includes periodically checking to see what species of bird is using your birdhouse as well as how many eggs or young are in the nest. Weekly monitoring is recommended to avoid problems with parasites or losses due to predators. Choosing an easy to open birdhouse with a mounting bracket makes monitoring easier.

Different birds have different incubation periods and fledgling maturity rates, The incubation and growth period ranges are found in the chart below: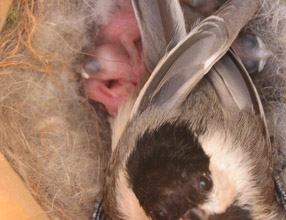 Chickadee with young
Diet, Clutch Size and Growth Rate of Birdhouse Birds
When to Clean Out Old Nests
As soon as the young birds have fledged the nest should be cleaned out. With smaller songbirds such as chickadees, nuthatches and wrens the parents will be flying back and forth from the birdhouse every couple of minutes or so to keep up with the diets of the growing young. As soon as the young have fledged you will notice no action to and from the birdhouse. You can gently knock on the birdhouse to ensure there is no movement before opening and observing the interior.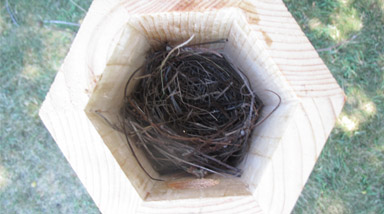 Nest ready to be cleaned out
Cleaning Out Old Nests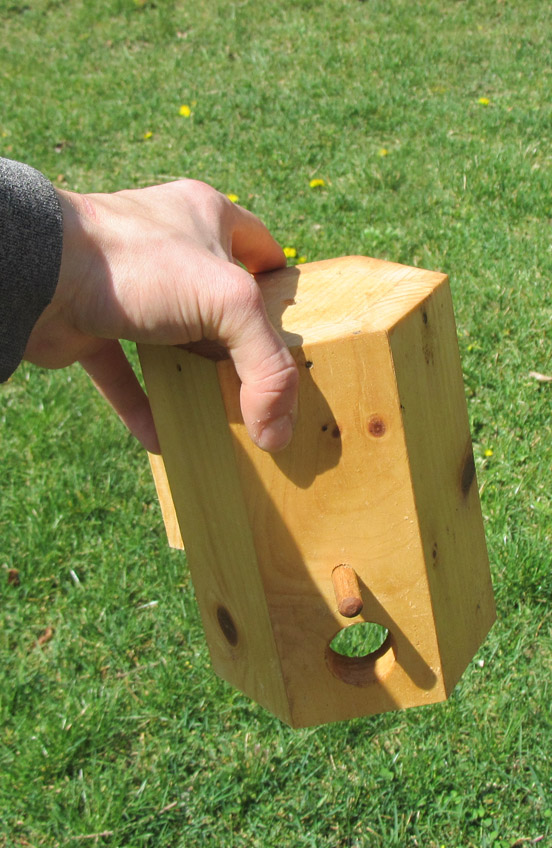 Cleaning out an old nest from a birdhouse
Many birdhouses have no way of being opened and should be assumed to be made for decorative purposes. While these ornamental birdhouses may be nice to look at, they do not provide the features that are essential for the welfare of the birds. As mentioned above, the top priority when it comes to birdhouse maintenance is cleaning out the nest immediately after the birds have fledged.

By cleaning the birdhouse as soon as the birds have fledged, you are more likely to keep moisture levels low, and lower the chance that pests and nest parasites will inhabit the birdhouse. With regards to wrens and bluebirds, if the nest is cleaned out immediately after the birds have fledged, it is possible to get a second and even a third set of birds in the same birdhouse in a single season!

When removing old nests from your birdhouse ensure that the drainage holes are clear. Removing debris with a small twig might make a big difference for the next family of birds moving into your birdhouse. Many people wait to clean out their birdhouse in the fall, but if it is cleaned regularly birds can be removing insect pests from your yard throughout most of the growing season.

If the next box interior is soiled, a mild bleach solution can be used to help remove any parasites or pathogens from the birdhouse body. Be sure to allow the birdhouse to dry before re-mounting. Ensure all hardware is still firmly in place (if any) before remounting.
Re-coating with a Non-toxic Preservative
After four or more years a birdhouse can be recoated with an environmentally friendly preservative that is non-toxic for the birds. We recommend using PolyWhey due to it is extremely low VOC level when applied as well as the durable waterproof coating it provides. More information can be found on the Staining, Painting or Preserving section.

If built properly, a birdhouse can last over a decade. The hexagonal birdhouse in the picture to the right was taken in 2013, 19 years after it was mounted on our barn.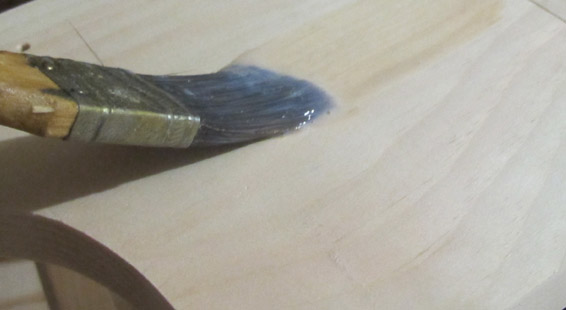 Using a paint brush to apply PolyWhey coating
Sitemap | In Season | Products | Information | Store | Contact Us