Bird Food - The Diet Of Birds
It is not surprising different birds are attracted to different types of bird feed. Not all birds eat seed, many birds eat insects exclusively. These birds are difficult to attract to your yard by food if bird seed is provided. These birds can be drawn to your yard by providing meal worms, water and/or a nesting cavity, such as a birdhouse. Birds also have different energy requirements at different life stages, and therefore require different types of food. A chickadee will feed insects to its young, but feed primarily on seed throughout its adult life. A wren alternatively, is an insectivore its entire life.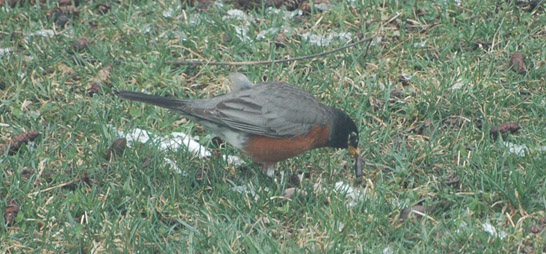 Robin eating an earthworm
It is important to obtain quality food that is not spoiled and is as fresh as possible. Pests and pathogens may deter birds from eating the seed altogether and may negatively affect the bird's health. In temperate climates birdseed is harvested when plants reach maturity near the end of the summer. Once the seed is harvested it starts losing its oil content as it dries out. If blackbirds, grackles, starlings or squirrels are eating the majority of your food, safflower seed might deter them and allow other birds to enjoy the feeder.

The table below shows different types of feed available and the birds they commonly attract.